David Schutt '71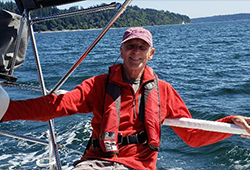 When one door closes, another one opens
For retired Col. David Schutt, the love for the uniform started at a young age. From his father's service in the Air Force to joining the Boy Scouts and ROTC to Air Force Academy appointment and 26-year Air Force career, the uniform has been a constant in his life. While Schutt has had a very successful career as a doctor, it was not possible without overcoming challenges, staying positive and focusing on the new door that opened after one closed.
As high school senior, Schutt was enjoying his final academic year and was excited and ready to embark on his next chapter. He was set to join the Academy's class of 1970 until he suffered an athletic injury in the spring. The Academy asked him to wait a year to ensure his injury fully healed prior to enduring basic cadet training. While disappointed, Schutt was able to attend the University of Illinois for a year with the help of Falcon Foundation scholarship. He enrolled in their Air Force ROTC program and chose engineering as his major.
The next year, Schutt was ready to join the Academy Class of 1971. Schutt focused on a major in aeronautical and astronautical engineering with a goal of entering the pilot program and a long-term focus of training to become an astronaut. At the end of his third-class year, however, disappointment set in again when he was unable to pass the vision test required for flight training.
Maintaining his positive attitude, he switched to his second interest of biology and life science and a new goal of becoming a doctor. While there was no clear track to medical school, Schutt focused on his new opportunity and began the long process of medical school applications. During the spring of his first-class year, Schutt was beginning to get the feeling of disappointment again because he had not been accepted to medical school yet.
The dean of the faculty, Brig. Gen. William Woodyard, became aware of his situation and offered the young Schutt advice and support that led him to George Washington School of Medicine. That support combined with Schutt's determination and resilience marked the beginning of his life's next chapter and a successful career. After completing his residency, he held a variety of positions: assistant professor, staff physician on a remote island, consultant to the Surgeon General and director of quality with the Department of Defense.
While Schutt was no stranger to experiencing disappointment and knocking on closed doors, he looks back now appreciating the positive impact the Academy and people like Woodyard had on him and his life.
"The Academy gave me a tremendous leg up and helped with both my Air Force and post careers," he said. "Now that I'm retired, I'm focusing not on what I'm going to achieve, but how I can contribute back." Schutt is proud and honored to be a USAFA Endowment Polaris Society member by making a bequest in his estate plans benefiting the Air Force Academy.