Curt Emery '70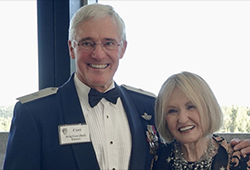 Be Adaptable
USAFA Prepared Emery for Change
When Curt Emery graduated from the Air Force Academy in 1970 with a degree in Asian studies, he presumed the subject matter would be of great value to the Air Force following his flying assignments. Little did he know that his future roles would be far different, but he was successful due to a lesson learned as a cadet: be adaptable. Even attending USAFA was a change, as the Oregon native had his sights set on other schools. A visit from a USAFA football coach convinced him to seek appointment to join the Long Blue Line.
"I was grateful to be recruited and given the opportunity to be a Falcon," Emery said. "A neck injury stopped my football career during my third-class year, but I was fortunate to get a medical waiver for pilot training. An immersion program to Japan heightened my inclination for foreign policy. The broad education and leadership training as a Zoomie prepared me well for Air Force service."
Emery's diverse Air Force assignments began after 10 years as an F-4 pilot and attending Air Command and Staff College.
"I was surprised when they posted me to the Air Staff in Middle East Policy given my Asian academic background," Emery said, "but being an instructional pilot training Egyptians in the F-4 won out." He later served in European/NATO policy.
While serving in foreign policy and after the passing of his first wife, he met Carole, who worked at the Office of the Secretary of Defense International Affairs. "She had her own very successful 30-year career, with choice assignments in the Pentagon plus interesting assignments at U.S. Embassy locations in Iran and Portugal."
After a return to flying the F-4G as commander of the 23rd Fighter Squadron at Spangdahlem, Emery moved to Maxwell Air Force Base as a director of the Joint Flag Officer War Fighting course followed by War College. He then was a wing commander flying F-16s until his final assignment in Theater Missile Defense acquisition programs in the Pentagon.
Following his 1997 retirement, Emery had a 10-year stint with various space defense firms in Colorado Springs. Within a year of moving to the Springs he found himself as chair of the Class of '70 reunion committee and a member of '70 Gift Committee, which he has served continuously.
"This was the time of life to reflect on the opportunities the Academy experience had enabled, a time to give back. I'm pleased to donate time and resources to the places important to us, including our church, the Air Force Academy Foundation, AF athletics, and my class," he said.
Sabre Society donors as well, the Emerys recently added a legacy bequest provision in their will to benefit the Academy in the future. Now a proud member of the Polaris Society, Emery challenges fellow graduates: "I hope all of us graduates can see why it's so important to support our Academy – the 85 to 90 percent of USAFA's budget received from the Pentagon is just not enough. We need to step up and help."