Giving Back — Sharing his Shares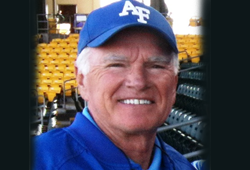 For Fred Olmsted, a retired pilot and lifelong car enthusiast, the phrase "Planes, trains and automobiles" neatly describes some conveyances he has used to get to a destination. Lately the 1964 USAFA graduate has found "Stocks, bonds and mutual funds" aptly names a very advantageous means of conveying a charitable gift.

"This is a method of giving that I highly recommend," says Fred. "It makes such sense to get 100 percent of the stock's market value as a charitable deduction even though my cost was, say, only 27 percent of that. Plus, it does not affect my cash flow and allows me to rebalance my portfolio while helping the Academy." Fred has generously supported the Holaday Athletic Center, and "It's even possible to use stock to make annual Sabre Society donations." He is also considering adding the Academy in his estate plans.

Fred's nine-year Air Force logbook included time as T-38 instructor, and F-4 combat tours. He was featured in a History Channel documentary titled "Dogfights," which chronicled his second MiG-21 kill during his 300 combat missions in Southeast Asia. Post-service, he flew for Eastern Airlines and retired as a FedEx captain. He later received a law degree and has been a special assistant to the FedEx Chief Pilot. Married to Barbara, they reside in St. Augustine, Florida. There he works on two passions — golf (carries a five-handicap) and showing his original 1967 Jaguar.

The San Diego native was a standout baseball player for the Falcons, with the tag of "Lefty" for his pitching prowess. He regularly gets together with his classmates to follow and support the current-day team.

For more information about gifting stock, or making a future bequest in a will or trust, contact Dale Zschoche at the USAFA Endowment. His phone is 719-472-2059, and email is dale.zschoche@afacademyfoundation.org.