Glenn's Twin Loves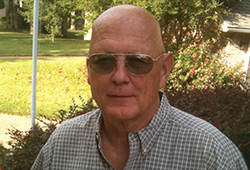 When Glenn Coleman '64 was a high school student in the then rural town of McKinney, Texas (now a growing part of Dallas-Fort Worth) he began two pivotal relationships that later became the loves of his life. The first relationship was with a young lady named Helen, who (after seven years of courtship) became his wife in 1964. The second relationship was initiated when Glenn witnessed the 1959 Cotton Bowl, during which an undefeated Air Force Academy football team battled to a 0-0 tie with TCU. Fascinated by aviation even though he had never flown in an aircraft, he swiftly applied to the Academy and 18 months later arrived in Colorado Springs. Fast forward to Glenn's nearly 50-year anniversary of his marriage and USAFA graduation, and Glenn is grateful for the twin blessings in his life.

"I was privileged to have a rewarding Air Force career, and certainly my Academy education prepared me well for my civilian vocation," says the former Cadet Commander of Squadron 16. Following his Vietnam tours, a stint as an instructor pilot and obtaining a graduate degree, Glenn relished a five-year assignment teaching Aerospace Engineering at the Academy. After retiring as a lieutenant colonel, he and Helen returned to McKinney, Texas. A 14-year career at Texas Instruments followed, with the final ten years spent as the firm's ethics officer.

Writing for pleasure after retiring from corporate life, Glenn authored Return to Stanley Canyon, a fictionalized action thriller that he calls "My tribute to USAFA Cadets and a love letter about the Academy." Wanting to financially support his twin loves, Glenn established a charitable trust that provides him and Helen income for the rest of their lives, with the remainder principle then benefitting the Academy. Thus qualified as members of the Polaris Society, they have also made current contributions at the Sabre Society level.

For more information on how you can arrange for a future gift to the Academy and qualify for Polaris Society membership, contact Dale Zschoche. He may be reached by phone at 719-472-2059 or email at dale.zschoche@afacademyfoundation.org.