Bill Clifford '76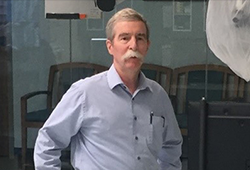 Always driven to serve, Bill Clifford graduated from the United States Air Force Academy in 1976 and served as an F-15 Eagle pilot in Germany.
Clifford followed his ambition and his talents to USC Medical School, graduating with an MD, specializing in ophthalmology. He had the unique opportunity to serve at the King Khaled Eye Specialist Hospital, in Riyadh, Saudi Arabia, before returning to the United States to use his skills to treat underserved patients in Western Kansas.
Clifford and his wife, Jean, a retired Air Force JAG officer, are parents of six children, five adopted, but both have found time to serve on school boards, and he spent 13 years as a county commissioner.
"I have also been privileged to be a surgical attending at the VA Hospital in Oklahoma City, and to participate in medical missions on every continent except Antarctica," he says.
Clifford also served as the state president for the Kansas Society of Eye Physicians and Surgeons and is currently running for election to serve Western Kansas in the U.S. House of Representatives.
In 2018 he and his associates opened a new multi-million dollar state-of-the-art eye clinic and surgical center in Garden City.
Through it all, Clifford never forgets the impact the Air Force Academy had on his life. "I feel an obligation to give back to the Academy," he said. "My participation to date has been primarily financial, but I have also been willing to be an AOG board candidate and been involved with my class reunions."
The Cliffords support Academy programs, are recognized donors of the Polaris Society and Sabre Society, and have arranged a future legacy gift to the support the Academy as well.