Many new experiences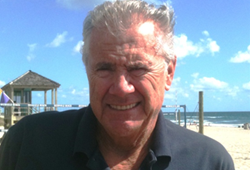 When Hank Hoffman arrived at the Air Force Academy in 1959 he was assigned a brand new room, used for the first time in Vandenberg Hall. It was a harbinger of many fresh experiences he would have throughout his Air Force career and beyond. Now nearing his 50th class reunion, he continues with novel opportunities, the most recent being a consulting engagement. And he is a new member of the Polaris Society, having made a bequest in his will to benefit the Air Force Academy.

The Detroit native was a three-sport athlete at the Academy and then qualified on numerous aircraft types. He served four tours in Southeast Asia, piloting 377 bomber and fighter combat missions. His love of flying grew during a nine-year test pilot assignment, during which he added many aircraft to his logbook (38 models in total). When leaving active duty for the Reserve Forces, a general officer predicted the strong work ethic Hank learned as a cadet would serve him well in the civilian world. He says, "I loved the Reserves, and it led to my proudest moment, pinning on full colonel after so many failures."

His airline career included flying five types and culminated as a 767 international line captain. "I miss not putting on my USAF uniform more than you can know, and if they'd let me, I would return to service today. The airline was just a job, serving my country was an honor." Father of two children, he now resides in Scottsdale, Arizona and Deerfield Beach, Florida.

Reflecting on his opportunities, he admits that "The Academy gave me a wonderful foundation for meeting any challenge life could provide. I bucked the odds many times, helped by what was instilled in me as a cadet." So when he recently revised his estate plans, "It was with a sense of gratitude, and maybe an obligation, that I chose to give back." Hank made an unrestricted charitable bequest, through the USAFA Endowment, that will support the Academy.

To learn more about estate planning, to join Hank as a member of the Polaris Society, contact Dale Zschoche at 719-472-2059, or email at dale.zschoche@afacademyfoundation.org.