One of the First...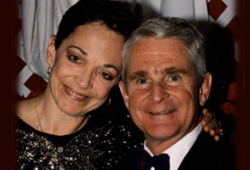 When Ed Montgomery arrived at Lowry Air Force Base in the summer of 1955, the Arizona native helped to usher in the first class at the fledgling Air Force Academy. "Everything we did was pioneering, and it gives me great pride to see that much of it remains the foundation of today's Academy," says Ed. "The paint in Vandenberg Hall CS-12 was barely dry when we had the privilege to march onto the terrazzo of the permanent site for our first-class year."

Following his 1959 graduation, pilot training and first-assignment instructor pilot, Ed became the original Academy graduate to be named an Olmsted Scholar and spent two years studying in Denmark. In 1968 he was one of the first grads to return to the Academy to serve as an AOC. He also had two combat tours in Vietnam flying F-4s, and was Director of Operations for the Red Flag series of exercises during its early days.

Colonel Montgomery retired from active duty in 1990 and came back to Colorado as assistant to the Director of International Operations for United Airlines, retiring in 2001. During that time he served two terms on the Association of Graduates Board. When the AOG began to encourage future gifts from bequests in wills, or from life insurance policies, Ed was one of the first to step forward, by donating a life insurance policy. "I felt it was important, as a board member, to lead by example," recalls Ed.

Ed and Lucia, married for 35 years, remain active in Academy life — speaking at leadership sessions, attending sporting events, and mentoring cadets. "It's another way for me to continue to give back," says Ed.

For more information on how you can arrange a future gift to benefit the Academy, and thus qualify for Polaris Society recognition, contact Dale Zschoche. He may be reached by phone at 719-472-2059 or email at dale.zschoche@afacademyfoundation.org.