Don's Foundations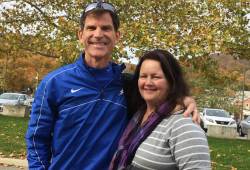 When Don Avery graduated from the Academy in 1978 and became an instructor pilot, he thought he would "fly forever." But an unexpected diagnosis of cancer, and his successful treatment, led to a rewarding new career. While on medical leave he began a master's degree program in healthcare administration, culminating in graduation from the University of Florida in 1986. Today he serves as President and CEO of a regional hospital in Dublin, Georgia.

"I have been truly blessed," says Don. "My education and training gave me a great foundation, but is has been my faith in Christ and wonderful family that has sustained me, particularly in dealing with the bumps in life." Don and his wife Fara recently lost a college-age daughter to an auto accident; their other daughter is married to a 1st Lieutenant in the Army.

Over the years Don has stayed connected to the Academy, including leadership with a Georgia AOG chapter. Every year he attends one or two of the "key" Falcon football games. When he returns to Colorado Springs his host is BGen (Ret) Orwyn "O" Sampson. He has been close friends with "O" and Diane since taking one of "O's" freshman biology classes and attending Fellowship of Christian Athletes meetings.

Don currently serves on the Board of Governors of the American College of Healthcare Executives and is a past chairman of his alumni organization at Florida. When those commitments end he may consider a seat on the USAFA Endowment Board, or running for the AOG Board. He and Fara have generously supported the Holaday Athletic Center and Center for Character and Leadership Development. When they recently updated their wills, a bequest to the Academy was included. The Foundation is pleased to recognize them as members of the Polaris and Sabre Societies.

His love of flying? Still there — since 2002 he has logged more than 1,300 hours in his Cessna 182.

For more information on how you can arrange for a charitable bequest to the Academy, and qualify for Polaris Society recognition, contact Dale Zschoche. He may be reached by phone at 719-472-2059 or email at dale.zschoche@afacademyfoundation.org.