Meet a new Polaris Society member...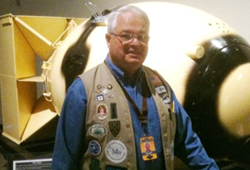 Gary '69 and Penny Hoe recently confirmed that the Air Force Academy is a beneficiary in their estate plans. In recognition of their generosity, the USAFA Endowment has conferred on them membership in the Polaris Society, and they join more than 185 donors who have made such commitments in their own estate plans, or have other planned gifts.

Both Gary and Penny are from Kentucky originally, and married six weeks after his USAFA graduation. Two tours at Kirtland AFB introduced them to Albuquerque, and following his Air Force retirement as a Lt. Col, they stayed in New Mexico. He joined Sandia National Laboratories and also did some work at Los Alamos. Now retired for good, he fills his time as a docent at the National Museum of Nuclear Science and History and is a member of a number of other volunteer activities. Penny is involved in Albuquerque's thriving arts community.

When Gary set about to revise his living trusts, and after taking measures to provide for Penny and their two daughters, he designated a percentage of their estate to make charitable bequests for several organizations that mean a lot to them.

Says Gary of his decision to include USAFA as a beneficiary, "I am grateful for the opportunities afforded me by the Air Force Academy — Appalachian Kentucky just did not offer much to a budding engineer at the time. I'm proud to be a member of the Class of 1969 and happy to offer this future support to help enrich cadets' experiences."

For more information on how you can arrange for a charitable bequest to the Academy and qualify for Polaris Society membership, contact Dale Zschoche. He may be reached by phone at 719-472-2059 or email at dale.zschoche@afacademyfoundation.org.