The Law According to Bill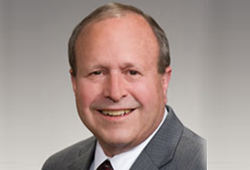 Not long after graduating from the Academy in 1968, Bill Maywhort began his journey into the legal profession, receiving a J.D. degree from the University of North Carolina Law School and later earning an advanced degree from Yale. Bill served in the General Litigation Division of JAG headquarters until 1978 and then entered private practice.

"The law's challenges and the opportunity to make a difference remain the principal attractions of the profession," relates Bill. "I truly believe that the foundational core values of the Air Force Academy have enabled me to be a more effective advocate for those needing legal representation." Bill is a commercial litigator and long-time partner at the prestigious firm of Holland & Hart LLP, where he is a resident partner in the firm's Colorado Springs office.

Bill is a strong proponent of the notion that one should provide service to the organizations important to a person's livelihood and education. "There are many ways to give back, and I would strongly urge everyone to do so in their own way," says the Tennessee native, with a soft Mid-South voice inflection barely detectible. He has been the President of the National Lawyers Association, thrice served on the AOG Board, and as a Director and Secretary of the USAFA Endowment.

His commitment goes beyond attending meetings and providing pro-bono work. "As Academy graduates, I believe that we all should be involved and supportive. Participate in AOG events, provide leadership, donate as you are able, and arrange to leave a legacy gift through a bequest in your will." Bill's checklist shows he has completed them all. Soon he will begin the retirement phase of his life, with wife Diana.

For more information on how you can arrange for a charitable bequest to the Academy and qualify for Polaris Society membership, contact Dale Zschoche. He may be reached by phone at 719-472-2059 or email at dale.zschoche@afacademyfoundation.org.