Ed Mechenbier '64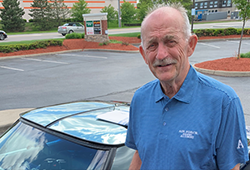 Mechenbier embodies selfless motivation
Ed Mechenbier, USAFA Class of 1964, regularly expresses the mantra "Unity through selfless motivation."
The West Virginia native began his Air Force journey as an F-4C Phantom II pilot, and on his 113th combat mission (his 80th over North Vietnam) he was shot down, captured and became a POW. As with all prisoners in the "Hanoi Hilton," Mechenbier experienced mental and physical torture. "We knew that if we stuck together, we could get through it. You're not alone. There are other people counting on you," he recalled.
Released after nearly six years of confinement, Mechenbier remained in the Air Force and reached the 40-year service mark. "Putting on a blue uniform every day was a little bit of a security blanket," he said.
Before retiring as a major general in the Air Force Reserve, the command pilot with 3,600 hours had one final mission. "It was a privilege to be at the controls of a C-141 and return to Vietnam to repatriate the remains of airmen killed in action," he said.
His many decorations include the Distinguished Service Medal, Silver Star Medal with oak leaf cluster, Distinguished Flying Cross with oak leaf cluster, Bronze Star Medal with Valor device and Purple Heart with oak leaf cluster. He is also a 2006 recipient of the U.S. Air Force Academy and Association of Graduates Distinguished Graduate award. In 2018 he had the opportunity to give the oath of enlistment, for the third time, to his daughter, Master Sgt. Kari Eubanks, USAF Reserve. "It is father pride from ear lobe to ear lobe," Mechenbier said.
He is a frequent visitor to USAFA, where he enjoys speaking with the cadets. "I challenge them to keep up the partnership, keep up the friendship. It's only by selfless unity that we're going to get the job done for the Air Force," he said.
He is a long-time donor in support of the Academy and has named Air Force Academy Foundation as a legacy beneficiary in his estate plan. "[The Academy] provided the foundation for everything I do in my personal and professional life," Mechenbier said, "and I am honored to give back."
For more than 30 years, Mechenbier has been a television host for major airshows throughout the country. He has held several senior corporate and consultant positions with defense contractors, including Leidos since 1992. In addition to service on public and private boards, he is greatly involved with the Dayton AOG Chapter, particularly their annual golf outing.
For more information on how you can arrange for a future legacy gift to help the Academy and qualify for Polaris Society membership, contact the Office of Gift Planning.