She Worked the Plan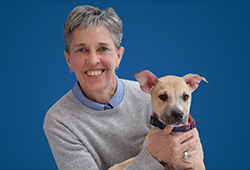 When Robin Wright arrived at USAFA in 1980, she knew motivation and planning would lead to success. "The discipline and values instilled at the Academy inspired me all through my time there, in the Air Force, and in private industry," states Wright. "Even my plan to concentrate on engineering in lieu of not being qualified to pursue a rated Air Force career was aided by the learned trait to focus and compartmentalize."
Further explaining her motivation, "I was always driven by leaving personal and professional endeavors better than I found them, and I quickly realized the values of integrity, service and excellence to be key." At USAFA, Wright was selected to lead her cadet squadron, served as a deputy group commander, and was a four-year member of the Women's Rugby Team. She earned a Guggenheim Fellowship, going to Columbia University in New York after her 1984 graduation. Armed with a MS Engineering degree, she secured an assignment to SAC headquarters, where one of her assignments was to work on the survivability of combat aircraft. Following a stint at Air Force Space Command in Colorado Springs, Wright separated and embarked on a 27-year career with Ford Motor Company.
"I landed a dream job in the Automotive Industry and immediately began to make my mark, while also working hard towards my end goal,' Wright says. "I strove to accumulate the wisdom and means in order to pursue passions important to me." At Ford she rose to be an Engineering Director with contributions on top-selling and leading-edge automotive platforms and powertrains. "It was a very rewarding career in an industry critical to the U.S. economy, and I owe a great deal of gratitude for how the Academy prepared me."
Wright has expressed her appreciation by regularly donating to USAFA, and recently documented a legacy provision in her will that will come to the Air Force Academy Foundation. "I'm pleased to arrange this future support, and hope other graduates will consider doing so," Wright comments. She is a member of the Sabre and Polaris Societies in recognition of her philanthropy.
Still living in the Detroit area, Wright's passion is now animal welfare. She is the President of the Board for the Michigan Animal Rescue League, and oversaw the planning and construction of a new facility for the organization. "I have been so fortunate, and I am so grateful to be in a position to give back."