Jim's three R's: Research, Riding and Returning the Blessings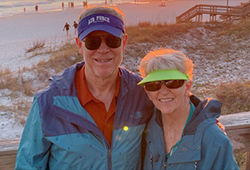 When James "Jim" Hansen was an Air Force Academy cadet in the 1960s, he found that setting ambitious objectives was a motivator, requiring preparation and persistence to achieve. Not only did this enable the Minnesota native to graduate with distinction in 1969, but it also landed him a spot at Columbia University.
Armed with his first graduate degree, he obtained a research assignment at the Academy's engineering mechanics department (now DFME). Hansen was no stranger to the labs at USAFA. As a cadet, he received the Outstanding Cadet Research Award for his work on a trailing wire antennae for the AC-130 Gunship and the EC-130.
"The fact that the work of cadet research was done for the 'real' Air Force was enormously encouraging, which then fueled my desire to inspire the cadets under my tutelage to also set high goals," Hansen said.
After a stint at Air Force labs at Kirtland Air Force Base, he returned to DFEM for nine years, during which time he obtained a doctorate.
"It was so rewarding to help cadets realize their potential," Hansen said.
Following further research positions, including serving as Director of the National Aerospace Plane Institute of Composites, for which he won the award of Senior Military Engineer of the Year for Air Force Systems Command, the retired lieutenant colonel began his second career in various civilian engineering roles at the U.S. Department of Energy's Oak Ridge National Laboratory.
Prior to full retirement in 2013, Hansen took up long-distance cycling. Including trips across Colorado with Academy classmates, Hansen has completed two, 3,000-mile cross-country rides. One of which raised significant funds for various veteran organizations. That trip was featured as the cover story of the June 2019 Checkpoints magazine.
"There are plenty of people who considered duty, honor, country and went off to a war zone; now they need our help," Hansen said.
This is just one example of how Hansen and his wife, Merry Ann, choose to return the blessings they have received. Now living in Oak Ridge, Tennessee, the Hansens volunteer with several non-profit organizations. Their most significant support has gone to the Air Force Academy Foundation.
"We feel the Academy provided the basis for the great life we have, and returning some of our resources is fitting," Hansen said.
They have established an endowed award suite meant to motivate and recognize superb cadet research efforts across the mechanical engineering department's (DFME) research lifecycle, with the objective of contributing to the Air Force's warfighting ability.
"We are also working with the department to create a display of past cadet and faculty research successfully used in the Air Force as a motivator to current and future cadet," he said.
The Hansen's are using a combination of transferring Required Minimum Distribution (RMD) amounts from an Individual Retirement Account and a gift of real estate to fund the endowment.
"Being able to change the RMD contribution amount yearly gives us flexibility that we need," the couple said.
They also will add a future legacy gift, resulting in recognition in the Polaris Society. To learn more about using these methods to support USAFA, contact Dale Zschoche at dale.zschoche@afacademyfoundation.org.