From Black Sheep to Air Force Blue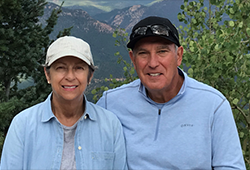 When Chuck Winter decided in 1968 to attend the Air Force Academy, it was counter to his family's allegiance to West Point, where two of his brothers graduated.
"I was definitely the black sheep of the family," recalls Winter. "But as a cadet, my resolve to be a USAFA graduate and serve in the Air Force was solidified when one of my brothers perished in Vietnam." He graduated in 1972. After the Michigan native completed a Master of Business Administration at UCLA and pilot training at Craig Air Force Base, he became an RF-4 instructor pilot.
Winter's final Air Force assignment was at the Academy's airfield, which enhanced his admiration for USAFA. Much later, after a retirement move to the Colorado Springs area, he and his wife, Shelly, began sponsoring current cadets and attending Academy athletic events.
"We are most proud that our daughter, Lindsay, and her husband, Mike Keough, are both 2000 USAFA graduates, and our son just retired as an Air Force officer," Winter said.
Chuck and Shelly met on a blind date when he was a cadet, under the flagpole at a Falcon football game. "We've had 49 great years of marriage and a great partnership that has helped me throughout my career," he says.
After his Air Force service, Winter entered the nascent IT industry. Utilizing his engineering and management degrees and the leadership skills he learned at the Academy, he became a senior executive in IT sales for two different software companies.
At his corporate retirement, a significant bonus award resulted in a serious look at estate planning options. "It became clear that a charitable component would not only benefit Shelly and me from a tax standpoint, but also help the Academy and others," Winter said. "My USAFA education truly led to my civilian career success, preparing me for management responsibilities, as well as the engineering component of IT sales. It was a great foundation, and we are pleased to name the Academy as a beneficiary of our plans." As a measure of the Air Force Academy Foundation's appreciation, the Winters are recognized as members of the Polaris Society.
The Winters have a charitable remainder trust, a specialized plan that provides them with significant current-income tax savings while allowing a future distribution to support the Academy.
For more information on effective estate planning, including the advantages of and procedures for establishing such a trust, contact Dale Zschoche P'10, director of gift planning, at [email protected].