From an empty warehouse to Falcon Stadium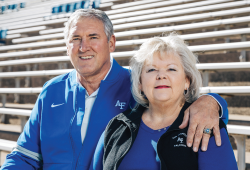 For Jack Kucera '78, a business challenge became a terrific opportunity for the Air Force Academy Foundation. When one of his companies no longer needed a warehouse/office building that he personally owned, his accountant's analysis showed the advantages of donating it in support of Falcon Stadium renovations. "This was a revelation to me - how an unused asset could help our Academy," he recalls. "Vianne and I were pleased to offer this gift." After the Foundation conducted due-diligence and Kucera completed minor building updates, the property's deed was transferred to the Foundation. Kucera was able to use the full market value as a charitable deduction. Since the building was in a prime Phoenix location, above-appraisal sale proceeds went to the Falcon Stadium fund.
As Kucera points out, "Property gifts are an amazing way to bring mutual benefits to donors and the Academy - and they can range from small residential lots, to no-longer-used vacation homes to commercial property."
To assist the Foundation handle property gifts Kucera helped to stand up an allied organization, the Air Force Academy Real Estate Trust. This gives the Foundation more flexibility in the management of donated real estate.
In addition to outright property donations, an attractive option is available to homeowners of making a current arrangement for their house (or second home) to pass to the Foundation at a future date, with full personal usage until that time. "As with the tax advantages that Vianne and I realized, so can these types of gifts bring you tax benefits," says Kucera. "A win-win for all." For more information contact the Foundation's Office of Gift Planning.
The South Dakota native graduated from the Academy in 1978 with a civil engineering degree and added an MBA from Arizona State. He purchased Climatec in 1987 and grew it into the Southwest's largest independent provider of industrial automation and control solutions, particularly in HVAC. When Bosch GmbH recently purchased a portion of the company, Jack retained the rest and renamed it Varitec Solutions, where he remains as President/CEO. But on most autumn Saturdays he and Vianne will be found at Falcon Stadium, or wherever the football team is playing. He also serves as the Board Chair of the Air Force Academy Foundation.