Fred Zeitz '78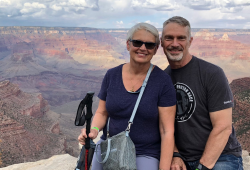 A life of many passions
Fred Zeitz always had a dream of flying. But after finishing top of his engineering class at the Air Force Academy in 1978, a career in electrical engineering seemed imminent.
That was until his father gave him the advice of being a pilot while he's young and a career in engineering could come later.
Zeitz took the advice - all of it. He flew one tour in the EF-111 before attending the Air Force Institute of Technology (AFIT) where he earned a master's degree in electrical engineering. He returned to fly the F-111 and finally the F-117. He ended his flying career with 3,500 flying hours.
With a passion for academia, he received a full scholarship to the University of Michigan to pursue his doctorate in electrical engineering.
"The Air Force Academy provided the superb education that made it possible for me to go to AFIT 11 years later and still be able to do well in academia," he says.
Zeitz never had to pay for his education, and he credits the Academy with helping him achieve both his dream of flying and engineering.
"I just think the foundation of the Academy was so strong, and I have some natural abilities, but was fortunate and blessed enough to be able to use both the education and the skills that I had," he says.
He climbed the ranks to Chief Scientist at BAE Systems, an aerospace company, where he's been for the past 15 years. Leading large teams and programs at BAE Systems, he attributes his successes as a leader to lessons that he learned at the Academy.
"I believe that the teamwork benefits from bringing together people with diverse ideas," he says.
Over the last several years, Fred and his wife, Cheryl, decided to give back to the Academy, an institution that opened opportunities for a successful career.
Working with the Air Force Academy Foundation's office of gift planning, the Zeitzes explored various giving options. One of the choices they made was to set up deferred charitable gift annuities, which will provide guaranteed annual income to begin later in their retirement years. With each transaction they were also eligible to claim a significant charitable deduction when they filed their income taxes.
"I just found that I need to give back so that future generations will have the same opportunity," Fred says. "And with the annuities, Cheryl and I are doing just that. The Academy will have a nice gift remaining and we will have income for the rest of our lives."
After spending 15 years in Massachusetts, the Zeitzes have moved to Council Bluffs, Iowa, to enjoy retirement, be closer to family, and return to the flying passions that never truly left Fred.