Ivan Perry '05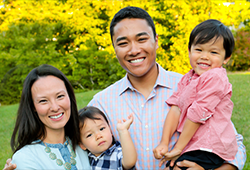 Ivan '05 and Suzie Perry, with their two sons Noah and Jonah
"The Air Force Academy was one of the best things to happen to me," says Ivan. "It prepared me well for the rigors of serving in the heavy-combat zones, and now in my civilian career I am constantly drawing on the leadership and academic attributes I learned during my four Academy years."
Ivan recently determined it was prudent to make estate plans. "I want to make sure my wife and children have what they need to do well, should something happen to me, and I'm pleased to include a provision naming the Air Force Academy Foundation as a charitable beneficiary. No matter what age one is when they do estate planning, it is certainly appropriate to consider a legacy gift to help the place that means so much to us graduates."
In addition to helping to secure an exceptional future for cadets who will join you on the long blue line, a bequest or life-income gift to the Air Force Academy Foundation may also lessen the tax burden on your family and estate.
For information and assistance, contact Dale Zschoche at dale.zschoche@afacademyfoundation.org or 719-472-2059.