Help us serve future cadets. . .Remember the Academy in your will or trust.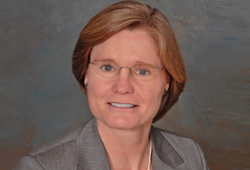 Lyn (South) Sherlock '82
3,200 hours in six trainer and mobility aircraft
29 years' service
Retired as Brigadier General in 2011
Married to Rick Sherlock, Major General, US Army (Ret); daughter Heather
Active in the non-profit sector
Ohio native, now living in Virginia
Polaris Society member since 2012
Legacy gift will help USAFA priorities
Says Lyn on her decision to make a future gift to support the Academy: "I'm pleased and proud to arrange for this bequest to help the Academy provide cadets with an outstanding education and training experience, just as I received to prepare for my Air Force career, and life beyond."

A charitable bequest is one of the easiest ways to leave a lasting legacy at the Air Force Academy. In addition to helping to secure an exceptional future for cadets who will join you on the long blue line, a bequest to the USAFA Endowment may also lessen the tax burden on your family and estate. For information and assistance, contact Dale Zschoche at 719-472-2059 or email him at dale.zschoche@afacademyfoundation.org.