Absence makes the heart grow fonder...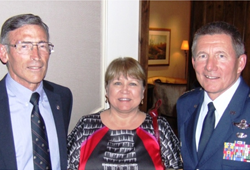 Jerry Roberts is quick to acknowledge that the Air Force Academy was a shaping force in his life, from the moment he arrived in the summer of 1961. "For a kid coming from a small Indiana town, the Academy helped me define the values, discipline, and ethics that served me well in my career," says the retired banking executive.

What sets Jerry's story apart is a break in his connection to the academy, lasting nearly 50 years. "I was young, unsure of life in the military, and susceptible to premature decisions. After five semesters, even though I was doing well in all aspects of Academy life, I chose to leave." Jerry completed his education at DePauw University in Indiana and began his career and family. "For many years we owned a second home in the Colorado mountains and sometimes we'd travel through Colorado Springs, when I would wistfully think 'What if. . .' "

In early 2013, with urging from Nancy, his wife of 39 years, Jerry went to the USAFA Endowment website and began the process of becoming re-connected. He was impressed with the positive reaction "I was so grateful to be welcomed back so graciously. Nancy and I very quickly received an invitation to meet the Superintendent and we were delighted to accept." They traveled from their winter home in Tucson, Arizona.

Jerry and Nancy, who review their estate plans every five years, made the decision to include the Academy as a charitable beneficiary. "I want cadets to have the best possible training," says Jerry They chose to designate their future support for the Center for Character and Leadership Development. Now proud members of the Polaris Society, they have also made a current gift commitment at the Sabre Society level.

To learn more how an estate gift can be established, and designated, contact Dale Zschoche, Director of Gift Planning, at 719-472-2059 or email at dale.zschoche@afacademyfoundation.org.